Introduction
SEAMEO SEN Malaysia is calling for Keynote and Plenary Speakers for our upcoming face-to-face 5th International Conference on Special Education (5th ICSE 2023) from 4th to 5th October 2023. We are offering an Exclusive Premium Package to our Keynote and Plenary Speakers that will provide a prestigious platform to showcase your work, engage with like-minded professionals and a diverse community of attendees.

Interested Keynote / Plenary Speakers are invited to submit your abstract according to the proposed Key Focus Area by 1st March 2023 for our consideration, and please refer to the Exclusive Premium Package details attached in the "CALL FOR KEYNOTE & PLENARY SPEAKERS" information sheet.
What you should know prior to the proposal submission
This conference is expected to provide new insights in teaching and learning, especially in tackling post pandemic learning recoveries. Educators, education officers, parents and the public will have the opportunity to better understand and enhance their knowledge and skills in Disability -Inclusive Education.

The conference also will serve as an important platform for educators to exchange best practices, ideas, establish networking as well as gaining ideas and knowledge of current trends in the area of Disability – Inclusive Education.
Theme and Sub-themes
The theme for 5th ICSE 2023 is "Gearing Towards Disability – Inclusive Education Recovery"
Proposed Key Focus Area
Plenary Session 1
| Category | Title |
| --- | --- |
| Keynote 1 | The Disruption: School Closure and Learning Loss (40 minutes) |
| Speaker 1 | Assessing Learning Levels (20 minutes) |
| Speaker 2 | Increasing Catch-up Learning (20 minutes) |
Plenary Session 2
| Category | Title |
| --- | --- |
| Keynote 2 | Reaching Every Child and Retaining Them in School (40 minutes) |
| Speaker 1 | Prioritizing Teaching (20 minutes) |
| Speaker 2 | Developing Psychosocial Health and Well-being (20 minutes) |
Plenary Session 3
| Category | Title |
| --- | --- |
| Keynote 3 | Education Transformation (40 minutes) |
| Speaker 1 | Digital Learning (20 minutes) |
| Speaker 2 | Alternative Teaching and Learning Method (20 minutes) |
Speaker Fee
| Category | Fee |
| --- | --- |
| Keynote | : USD250 |
| Plenary | : USD200 |
Note: Airfare and accommodation shall be borne by the respective speaker. The organizer will be providing meals (during conference) and ground transportation (Airport – hotel – conference venue, and hotel – airport ONLY). Ground transportation
will be provided to the designated hotel by the organizer.
Target Participants
The conference will be hosted from 4th – 5th October 2023 in Taylor's University, Malaysia with face – to -face setup.
The 5th ICSE 2023 is expected to be attended by participants and delegates from Southeast Asia Countries and all around the world composed of prominent speakers, teachers, educators, stakeholders, NGOs, parents, students, researchers, special
education providers, policymakers, officials of MOE and interested individuals.
Deadline for Submission
Deadline for Keynote and Plenary abstract submission by March 31, 2023.
The decision will be announced as soon as your proposal are reviewed and agreed by ICSE 2023 Committee not later than April 2023
How to Apply
To submit a proposal, please provide the following information:
To improve the efficiency, please submit your proposal by filling out the application below Keynote/Plenary Proposal Form 5th
ICSE 2023
We deeply appreciate your interest and contribution to the success of 5th ICSE 2023.
Looking forward to your proposals!
---
Spread this opportunity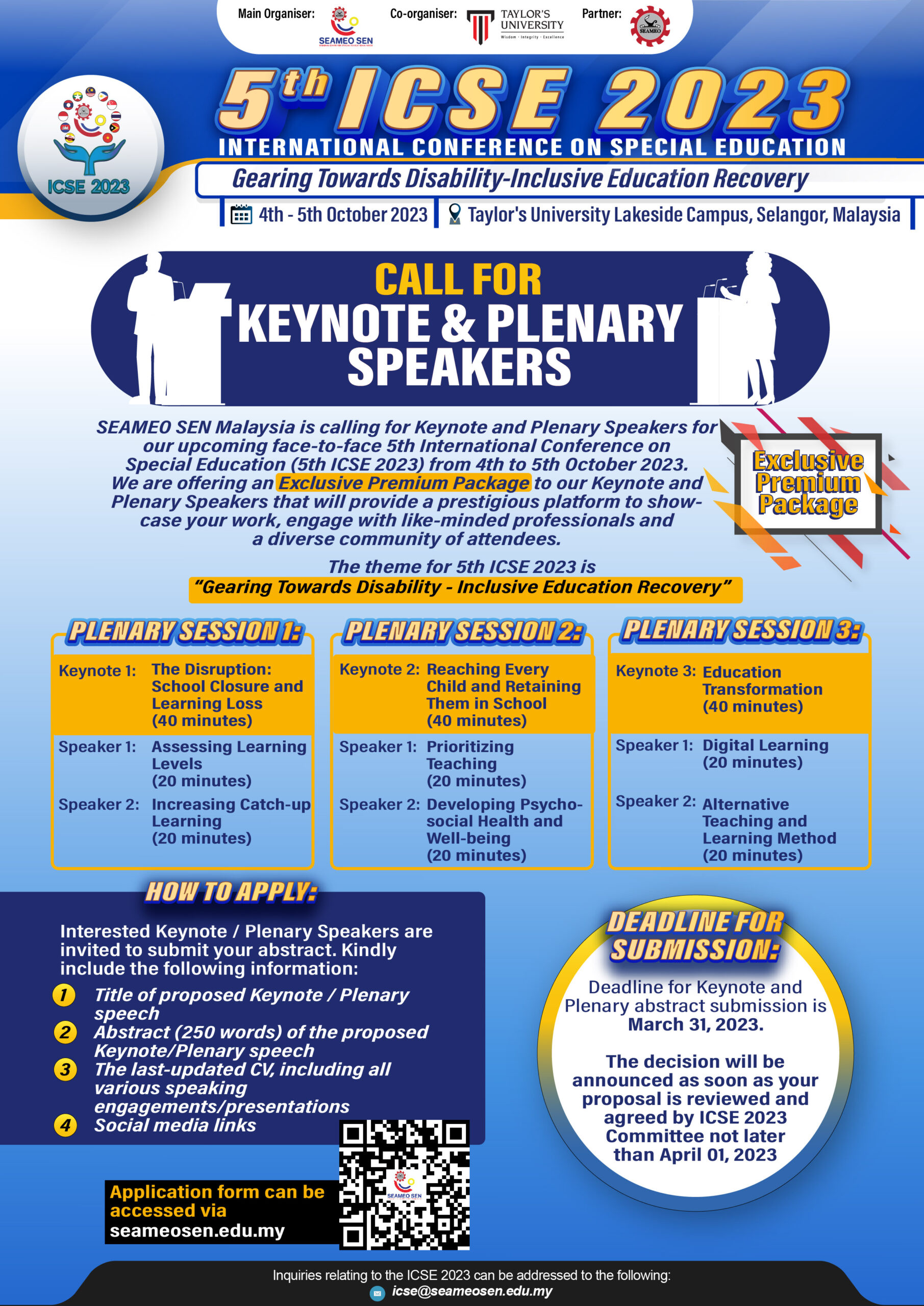 ---